SENIORS ENTERTAINER
Musical entertainment for Senior Citizens. Tips, information, and useful links for entertainers, event organisers and activity directors. Senior citizen entertainment is a specialty.
Hi,
I'm Roger Chartier. I created this website www.SeniorsEntertainer.com so that I could help people who want to learn how to become entertainers for senior citizens.

I've been doing this work full-time since 1992. Most of the jobs that I focus on in this website are in nursing homes, assisted living facilities, and adult day care centers.

The shows are usually an hour long and usually in the afternoon or in the morning so that you can still do another gig in the evening.

On the website here we talk about what kind of music to play, what kind of equipment you should use, what kind of clothes that you might want to wear, and different kinds of theme parties.
We also talk about how to promote yourself, promotional material and how to approach activity directors to get jobs.
I've gotten a lot of emails from folks who are excited about getting into this line of work. I hope the website is useful to you.
There are several pages here that are directed toward activity directors and people who do that sort of work organizing the senior gigs.

There are different tips on there for them, as well. Be sure to sign up for the newsletter.

Take a look at the entertainers pages for an insight as to what some very good entertainers are doing.

I can create an entertainers promotional page here for you if you are an entertainer contact me about it and we'll set it up.

I wish you the best of luck - go for it!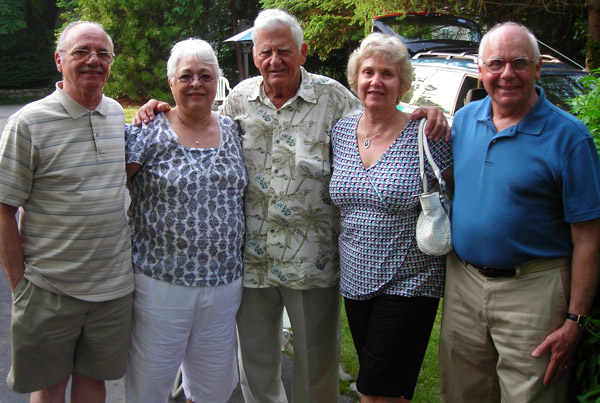 Normand (center) and some of his family - at a seniors party!